(objavljeno na www.posao.hr)
Svake godine američka sindikalna udruga Working America, objavljuje zaposleničke horor priče. U pravoj karpenterovskoj maniri, stotine posloprimaca šalje im priče o svojim najgorim poslodavcima.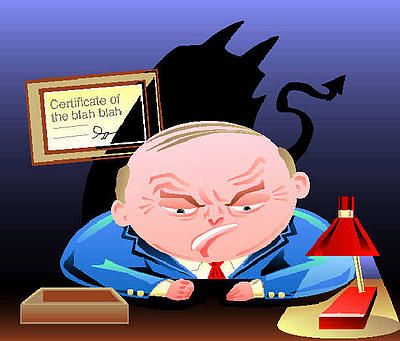 'Working America' je pridruženi član jednog od najvećih sindikalnih udruženja Amerike, takozvane «Američke federacije rada i kongresa industrijskih organizacija» (en. American Federation of Labor and Congress of Industrial Organizations) poznatijeg kao AFL-CIO. Ove godine je žiri natjecanja «Moj najgori šef» imao tešku odluku izabrati između gotovo 640 pristiglih priča. Pobjedničkih kategorija je bilo pregršt a mi u ovom članku prenosimo priču pobjednika prema izboru žirija.
Pobjednička priča prema izboru žirija: «Nisam ni znala da sam Vera Čudina» Joan, Kanzas
Prije par godina radila sam kao voditeljica ureda u jednoj tvrtki. Moj šef me je zamolio da organiziram zajedničko druženje za naše zaposlenike i ja sam se složila da to učinim. Mislila sam kako bi organizirani odlazak na prvoligašku bejzbol utakmicu bio idealan. Rezervirala sam karte gotovo dva mjeseca unaprijed, dobivši pri tome i veliki grupni popust. Izračunala sam koliko gotovine bi svaki zaposlenik trebao dobiti kako bi kupio grickalice i piće, organizirala sam parkiranje na stadionu za sve zaposlenike a i dijeljenje karata.

Kada je došao dan utakmice, pala je kiša! Moj šef me je obavijestio da sam ja izabrala upravo taj dan jer sam znala da će padati kiša! Degradirao me na položaj asistentice i smanjio mi plaću.

Nakon par mjeseci pitao me da li bih organizirala piknik za sve zaposlenike. Rekla sam mu da ne bih. On je tada obavijestio Upravu da sam odbila organizirati zaposlenički piknik!
Ostale pobjedničke naslove, kao što su «Poslovne seljačine» ili «Burn baby burn» možete pročitati na stranicama portala Working America.